For the past couple years, most of my work has been done using the popular WordPress framework called Divi.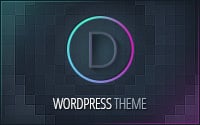 Really, Divi is a super-customizable theme more than a framework, at least in the way you use it. Exactly like any theme you'd find anywhere, you install Divi. Then you use the Divi theme options and Customizer to really make the site your own.
What sets Divi apart from most other themes you can find is that it's a drag-and-drop page editor. In other words, if you *only* install Divi and don't actually use the builder, you're not gaining anything. It's power is that you can take a plain page and turn it into a really beautiful design without having to know any coding at all.
I have yet to hear a complaint from a client for whom I have built a site using Divi.
In fact, a few of my clients love Divi as much as I do now because it allows them to create their own beautiful landing pages without having to pull me in! That's always my goal – I want you to be able to work on your website as much as you'd like without feeling like you need to pay me for it.
The one thing we've all wanted
As developers using Divi, there's been one limitation that we've really wanted for. Other page builder frameworks have put this in, and we knew Divi would get it too, we just didn't know when.
The one thing we didn't like about Divi was how hard it was to customize the header and footer. There were ways, but it usually involved writing code.
Not anymore!
Elegant Themes (the company that makes Divi) has announced the release of Divi 4, which includes a theme builder! This means that we can now create headers and footers using the Divi Builder that we've come to love. There's a lot more to it than that, but unless you already use Divi it might not make sense.
Suffice it to say that while Divi 3 was great, Divi 4 will be even better and make your websites even more awesome. As your developer, I'll be able to do more of what you want and even things you aren't thinking of, and I'll be able to show you how to customize some things yourself later on if you ever want to.
I can't wait to get into it, and I can't wait to build your site with the new version of Divi!